NEW WiRE NETWORK IN DEREHAM
WOODBRIDGE NETWORK
Network Leader: Isabel Smith
Sink Farm sport@sinkfarm.com
07970 937 899

Thurs September 13th
Women's Conference celebrating Women's Businesses in 2007 - Wantisden Valley, IP12 3PQ
9.30am to 3.30pm
Stall holders wanted - business to business
Thurs October 11th
10.30am
Park Farm, Sibton, IP17 2LZ
Monthly network meeting
Thurs November 8th
10am
Shire Hall, Woodbridge, IP12 4LP
Monthly network meeting
Thurs December 13th
10am
Venue: TBA
SUFFOLK NETWORK
Network Leader: Catherine Buchannan
4xtrahands & Partners4farmers (01284) 747292
Partners4farmers@btinternet.com
www.4xtrahands.com
www.Partners4farmers.com
Venue: Self Centre in Bury St Edmunds http://www.the-self-centre.co.uk/contact.htm
Time: 7.30pm

Tues July 31st
Tues Sept 25th
Tues Nov 27th
CAMBRIDGE NETWORK
Network Leader: Erica Dowling
Independent Beauty Consultant
Mary Kay (UK)
07718 089941
beauty@erica-dowling.com
www.marykay.co.uk/edowling
Venue: TBA
Time: 7pm

Tues Sept 25th
Tues Oct 23rd
Tues Nov 20th
WISBECH NETWORK
Network leader: Helen Garrett (01945) 582547

Wednesday September 26th
Thursday October 25th
Tuesday November 27th
Wednesday December 19th

Wheelers Accountants
Venue: 16 North Street Wisbech
HUNTINGDON NETWORK
Network Leader: Pauline Isaac
'Making choices with confidence'
www.choicecoaching.ltd.uk
(01480) 860308
Venue: Little Paxton Village Hall, Little Paxton, Nr. St Neots, Cambridgeshire
Time: 7.30pm- 9.30pm

Weds September 12th
IT Management
Weds October 10th
Motivation and Goal Setting
Weds November 14th
Speaker: TBA
Weds December 12th
Christmas Party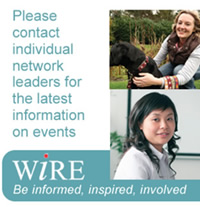 WiRE Regional Manager East of England
JULIA PACKHAM (01603) 259999 juliapackham@wireuk.org
P.O. Box 748, Norwich NR2 3GX
KINGS LYNN NETWORK
Network Leaders: Claire McDermid and Kate Elliott
Active Marketing & Design Ltd
www.activemd.co.uk
wire@activemd.co.uk
(01485) 609154
Venue: The Farmers Arms, Knights Hill, Kings Lynn
Time: 10am-12pm unless stated

Thurs September 18th
Selling on Ebay, Brigitte Morton
Venue: Dereham Library -
Limited number of pre-booked places only
Weds October 10th
Image is Everything, Claire Bunton
Tues November 13th
Sit Down and Relax, Lindsay Rose
Thurs December 13th
Christmas Lunch
12pm-2pm (Pre-booking essential)
CONSTRUCTION & DESIGN NETWORK
Network Leader: Nicole La Ronde
Ingleton Wood LLP 07817 484912
nicole.laronde@ingletonwood.co.uk
Venue: TBA
Time: 7pm

Thurs September 20th
Thurs October 25th
Thurs November 22nd
Thurs December 6th
GREAT YARMOUTH NETWORK
Network Leader: Susan Brewer
sue@ribrewer.co.uk 07748 914150
Venue: Wroxham Barns Coffee Shop, Tunstead
Road, Hoveton, Norfolk NR12 8QU
Time: 10am

Monday September 10th
Speaker: Ian Russell of Wroxham Barns
Bring your products to show Ian!

Tues September 11th
Crystal Clear Training, Lee Anne
Tues October 9th
Network member presentation
Tues November 13th
Network member presentation
Tues December 4th
Network/exhibition
Venue: Manor Farm Barns
NORWICH NETWORK
Network Leader: Julia Packham
juliapackham@wireuk.org
(01603) 259 999
Venue: The Workshop, Earlham Road, Norwich
Time: 7pm

Tues September 18th
Tues November 6th
PR AND MEDIA NETWORK
Network leader: Julia Packham
(01603) 259 999
Venue: The Workshop, Earlham Road, Norwich
Time: 7pm

Thurs July 26th
Tues October 16th
Weds Nov 28th
MEMBER EVENTS
Pampered Chef
Network member Catherine Philips is hosting a pampered chef event on September 13th at 7.30 pm at 451 Earlham Road Norwich . Its an opportunity to sample some great cooking and buy great kitchen equipment. If you would like to attend contact Catherine on 07869 214 075.
Crafts Exhibition at The Granary, WELLS on Friday 14th September from 10am to 4pm. For more information please contact Anna on 01263 722825 or
email: anna@norfolkcraftfairs.co.uk
Christmas Crafts
Newmarket Memorial Hall, 15 & 16 December. Exhibitors please contact Anna on 01263 722825
Christmas Craft Market, The Forum 28th Nov - 5th Dec. Few spaces still available for specific crafts, enquiries to Anna on 01263 722825 or logon to www.norfolkcraftfairs.co.uk for more info.
PROFESSIONAL DEVELOPMENT
Tired of being presented with 'off-the-shelf' sessions, which are not meeting your needs?" "Is now the time to invest in yourself?"
Gravitas specialises in tailor-made personal and professional development days for small groups of women. These take place in an idyllic, tranquil environment in central Essex, which is easily accessible by train or car.
Our next event for you:

Building Confidence: External / Internal
Date: Saturday September 15th 2007, 10.00 am to 2.30 pm

If you can't make this join us

Saturday October 13th 2007, 10.00 am to 2.30 pm
Cost: £110.00
A needs analysis questionnaire and follow-up ensures your specific needs will be built into these days.
BOOK NOW, or request further details: gillian.gravitas@btinternet.com / phone 01394 450956.
MEMBER PROFILE
Liz White of E-Design Consultancy is a dedicated IT professional. Working with computers for nearly 20 years, Liz has a wealth of experience from a variety of roles. These include bespoke software testing and documentation, software training, project management of software implementation and software support desk cover. Liz has also worked as a successful Office Manager, book-keeper and Director.
Throughout all her roles Liz has made use of her design flair in the creation of internal and external company documentation, including magazines, newsletters, brochures and now web pages and E-newsletters (including this one!)
Building from this success, Liz is also a qualified Search Engine Marketer. This enables her to create pages that not only look great, but also deliver great results.
Training and consultancy now form an integral part of Liz's work. Having recently carried out training for members of Enterprising Women through the University of Bedfordshire, Liz is delighted with the results: "the response from the training has been fantastic. It is very rewarding to enable people to achieve a greater return on the investment they have made in their website"
Web design Essex - www.e-design-consultancy.co.uk
JIGSAW
JIGSAW is in the process of launching Jigsaw@work as a simple, fun, practical tool that can be built into any of our training, coaching or team development events. Jigsaw@work will help you to develop your understanding and appreciation of your preferred style of operating and that of other people.
This understanding is hugely valuable and can help you and your colleagues to develop and improve:
team working
communication
management of staff
delegation skills
sales results.
Jigsaw Taster Sessions
To enable you to explore how the Jigsaw@work could be of benefit to you and your organisation, we have organised a series of Jigsaw Taster Sessions. During these one and a half hour sessions you will have a lighthearted and interesting opportunity to:
Explore and understand your own personality preferences
Understand how this is likely to manifest itself in behaviour at work
Appreciate the impact that your behaviour can have on others around you
Begin to consider the need to adapt your own behaviour in order to work more effectively with people who have a different personality preference.
Dates available are:
18th September 2007
1030-1200hrs
Cambridge

1st October 2007
1030-1200hrs
Harlow
15th October 2007
1400-1530hrs
Bury St Edmunds
If you would like to attend a Jigsaw Taster Session please contact Jacqui on info@flourishingpeople.co.uk or 0845 0945 400.
EDITORS COMMENT
The Satnav Saga
If you are new to the satnav saga; certain persons, who will be left unnamed, have been accusing me of being unable to read a map, but I cannot be held responsible for printing errors! Well after months of using maps with errors, I decided to buy my husband a Satnav for his Birthday. Yes that's right I bought my husband one, (wink .wink). I can in no way be accused of spending unnecessarily. However, since my job requires that I travel round the East I will no doubt have to borrow his birthday present!
I must tell you though that we went to France during the summer, and guess what, the satnav, whom we call Jane, also could not read a 'map' . It was discovered, however that if we did follow her instructions we would always get to our destination.
I will leave the conclusion for you to deduce!
If you would like to send in a business profile or an article for the newsletter, email: juliapackham@wireuk.org