Women in Rural Enterprise (WiRE); as part of the Enterprising Women Project in the East of England, has set up 15 rural business networks across the region. These networks are for women who are running or thinking of running a rural business. The groups meet to do business together, exchange ideas, share experiences, listen to experts, and explore ways of working together to develop their businesses.


These network meetings are fully funded as part of the Enterprising Women Project until December 2007 and will continue as part of the WiRE membership package. WiRE membership costs just £30 and includes a range of business services, including network meetings, to help women start and grow a rural business.For more information or to join
WiRE..... www.wireuk.org
KINGS LYNN NETWORK
Network Leaders: Claire McDermid and Kate Elliott
Active Marketing & Design Ltd
www.activemd.co.uk
wire@activemd.co.uk
(01485) 609154
Venue: The Farmers Arms, Knights Hill, Kings Lynn
Time: 10am-12pm unless stated

Weds July 18th
Market Research, Rosie Beswick
Thurs September 18th
Selling on Ebay, Brigitte Morton
Venue: Dereham Library -
Limited number of pre-booked places only
Weds October 10th
Image is Everything, Claire Bunton
Tues November 13th
Sit Down and Relax, Lindsay Rose
Thurs December 13th
Christmas Lunch
12pm-2pm (Pre-booking essential)
CONSTRUCTION & DESIGN NETWORK
Network Leader: Nicole La Ronde
Ingleton Wood LLP 07817 484912
nicole.laronde@ingletonwood.co.uk
Venue: TBA
Time: 7pm

Thurs July 12th
Thurs September 20th
Thurs October 25th
Thurs November 22nd
Thurs December 6th
GREAT YARMOUTH NETWORK
Network Leader: Susan Brewer
sue@ribrewer.co.uk 07748 914150
Venue: Wroxham Barns Coffee Shop, Tunstead
Road, Hoveton, Norfolk NR12 8QU
Time: 10am

Tues July 10th
Magnotherapy, Karen Weston
Tues August 14th
Wroxham Barns, Ian Russell
Tues September 11th
Crystal Clear Training, Lee Anne
Tues October 9th
Network member presentation
Tues November 13th
Network member presentation
Tues December 4th
Network/exhibition
Venue: Manor Farm Barns
NORWICH NETWORK
Network Leader: Julia Packham
juliapackham@wireuk.org
(01603) 259 999
Venue: The Workshop, Earlham Road, Norwich
Time: 7pm

Tues July 17th
Tues September 18th
Tues November 6th
PR AND MEDIA NETWORK
Network leader: Julia Packham
(01603) 259 999
Venue: The Workshop, Earlham Road, Norwich
Time: 7pm

Thurs July 26th
Tues October 16th
Weds Nov 28th
CHRISTMAS FAIR
Trumpington Village Hall, Cambs
Sat November 17th
10am-4pm
If you would like to exhibit please contact
Beryl Morris (01353) 649 662
beryroge@btinternet.com
WiRE Regional Manager East of England
JULIA PACKHAM (01603) 259999 juliapackham@wireuk.org
P.O. Box 748, Norwich NR2 3GX
WOODBRIDGE NETWORK
Network Leader: Isabel Smith
Sink Farm sport@sinkfarm.com
07970 937 899

Tues July 24th
WIRE Fair celebrating Women in Business 2007 (targeting children's products - stall holders required) Easton Farm Park, nr Wickham Market, Suffolk IP13 0EQ
Thurs August 16th
Venue Butley Pottery, Butley, IP12 3PA
7pm-9pm
Thurs September 13th
Women's Conference celebrating Women's Businesses in 2007 - Wantisden Valley, IP12 3PQ
9.30am to 3.30pm
Stall holders wanted - business to business
Thurs October 11th
10.30am
Park Farm, Sibton, IP17 2LZ
Monthly network meeting
Thurs November 8th
10am
Shire Hall, Woodbridge, IP12 4LP
Monthly network meeting
Thurs December 13th
10am
Venue: TBA
SUFFOLK NETWORK
Network Leader: Catherine Buchannan
4xtrahands & Partners4farmers (01284) 747292
Partners4farmers@btinternet.com
www.4xtrahands.com
www.Partners4farmers.com
Venue: TBA
Time: 7.30pm

Tues July 31st
Tues Sept 25th
Tues Nov 27th
CAMBRIDGE NETWORK
Network Leader: Erica Dowling
Independent Beauty Consultant
Mary Kay (UK)
07718 089941
beauty@erica-dowling.com
www.marykay.co.uk/edowling
Venue: TBA
Time: 7pm

Tues July 24th
Tues Sept 25th
Tues Oct 23rd
Tues Nov 20th
HUNTINGDON NETWORK
Network Leader: Pauline Isaac
'Making choices with confidence'
www.choicecoaching.ltd.uk
(01480) 860308
Venue: Little Paxton Village Hall, Little Paxton, Nr. St Neots, Cambridgeshire
Time: 7.30pm- 9.30pm

Weds July 11th
Marketing A Small Business
Weds August 8th
Stress Management
Weds September 12th
IT Management
Weds October 10th
Motivation and Goal Setting
Weds November 14th
Speaker: TBA
Weds December 12th
Christmas Party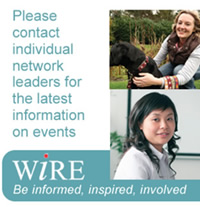 MEMBER PROFILE
The Alternative Curtain Company
Hand made soft furnishings
by Beverley Young – Tel: 01366 727656

The Alternative Curtain Company offers a personal service including design, choice of fabric, making up hand headed or machine taped curtains, blinds and other soft furnishings. All hung and dressed on completion in your home. Fabrics can be sourced or your own fabric can be used. All linings and interlinings are of a high quality and all curtains are weighted with large hems to allow for shrinkage on dry cleaning. A selection of passementrie is available which gives any curtains or blinds that opulent finish of distinction. For further information, please call Beverley Young on 01366 727656.
Beverley Young
Warren Lodge, Scotts Lane, Brookville,
Norfolk IP26 4RD
Tel: 01366 727656
Fax: 01366 727664
Mobile: 0798801165
MEMBER PROFILE
Gabi Willoughby - Video streaming

http://message2.myvideowebstream.com/view/?id=4RGMOPF7BHTXFK3A6QGF
CAMBRIDGE WOMEN
Cambridge Women is a vibrant business networking group for self-employed women, meeting regularly on the first Wednesday of the month at the Arts Restaurant in Cambridge between 12.30 and 2.30.
Whether you're established in business or just starting out, Cambridge Women in a great way to make new contacts, give and get business, get support and advice and even make friends. Around 35 women from a wide range of professions attend each event. There's a welcoming atmosphere, good food, and interesting conversation. Don't be shy! Give it a try!
More information and online booking at www.cambridgewomen.co.uk
STAKEHOLDER EVENTS
Live Your Dream Workshop – Womenta
10th July 07
9.30am to 2.30pm at The Self Centre, Suffolk Business Park, Kempson Way, Bury St Edmunds, Suffolk IP32 7AR

FREE one day motivational workshop for women thinking of starting a business. Childcare and travel bursaries available. Buffet lunch included.
You will leave the workshop armed with the motivation and material to get your own business up and running.
Call now to book your free place 01284 760206

www.womenta.org.uk
Introduction to Marketing Workshop – Womenta
18th July 07
9.30am to 2.30pm at The Vision Centre, Eastern Way, Bury St Edmunds, Suffolk IP32 7AB
A workshop for women who want to find out how to market their new business. How to find your USP and use it! Childcare and travel bursaries available. Only £10 for the whole workshop - buffet lunch included
You will leave the workshop brimming with key ideas to launch your business effectively.
Want to know more? Call now to book your place 01284 760206

www.womenta.org.uk