Happy New Year!

Let's get 2008 off to a great start!
Networks – All of our networks are raring to go after the Christmas break! Logon to www.wireuk.org/networks and see when your next meeting is!
Last Chance to exhibit at the
Country Living Spring Fair
WiRE have secured a discounted rate again at the Country Living Spring Fair - Wednesday 12th March - Sunday 16th March 2008. There has been a radical re-shuffle this time and although WiRE are still upstairs the "pitch" will be in the much busier bazaar, just by the coffee area. The cost will be £180 per m2 with the smallest stand size being 2x1.5m2 with the booking/service charge and vat it brings the cost to about £700. This sounds like a lot but with some 30,000 visitors and an average spend of £180 – it really is a great opportunity. We have block booked about 40m2 but it will go quickly – please call Nicola on 0207 288 6071 or email nicolai@upperstreetevents.co.uk to book a place (make sure you tell them you are a WiRE member).


WiRE Conference 18th March 2007 - Harper Adams University College, Shropshire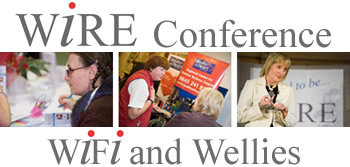 Part Welly, Part WiFi, embracing everything that is rural; from traditional crafts, local foods and farm diversifications to everything that is high tech, women in rural enterprises embody the huge diversity of rural businesses. They remain true to their rural roots but gallop ahead in the new technologies field to build bigger and better businesses.

The cost is £40 (+vat) for members £60 (+vat) for non members, tickets numbers are limited and can be booked online at www.wireuk.org or call the WiRE office on 01952 815338.


Ask an Expert
Do you need help with web design, emails, e-commerce or online shops? Lee Ann Smith of W3 Designs will be answering any questions posted at www.wireuk.org/forum. on ASK AN EXPERT. Also Sarah Flower of Elevale PR and Marketing Ltd will be answering questions on PR.
Assington Mill Courses, Suffolk
Assington Mill in a remote and beautiful part of Suffolk offers short courses on over 45 different arts and crafts topics. Coming up in January: Furniture Restoration, Carpentry for Beginners, Silver Clay Jewellery, Storytelling for Beginners and Drawing for Beginners. February's courses include Baskets for Free, Gilding, Hedge laying, Beekeeping, Hen keeping, and Fruit Tree Pruning. The most exciting courses after this are Stained Glass, Dowsing for Beginners, Willow Sculpture, Food for Free, Bush craft and Coracle Making. Another highlight will be the two Straw bale Building courses with Barbara Jones of TV's Grand Designs fame. Contact: Anne Holden on 01787 229955, Email info@assingtonmill.com or visit the website www.assingtonmill.com.
Simply Staffordshire wins Gold tourism award
Alton-based tourism business Simply Staffordshire received the Gold Award in the Tourism category at the Staffordshire Green Award Ceremony. WiRE members Maggie Peet and Emily Whitehead, a mother and daughter team, who run Simply Staffordshire, attended the awards ceremony and received a specially commissioned plate from Wedgwood and a £500 cheque to be spent on an environmental project. Maggie and Emily are only in the 2nd year of business and are delighted to have received this recognition for their efforts. For more details visit the website www.simplystaffordshire.co.uk.
Life Coaching Course, Warwickshire
WiRE member Ruth Guy is holding a seven week course based on Life Coaching and NLP in Leamington Spa, Warwickshire which commences in January. This seven-week course (now in its third year) will provide you with guidance and support as you set your own challenging goals. The course covers includes topics, such as tackling procrastination; communication skills; stress management; confidence boosting and managing your time effectively. For further details please email ruth@takingsteps.co.uk.


Rural Entrepreneurship Conference 2008, Scotland
The Centre for Research into Regional Development (CRRED) is running a 2 day conference on Thursday 22nd and Friday 23rd May 2008. The venue is Crichton University Campus, Dumfries in Scotland. The conference focuses on Entrepreneurship and Sustainability, Culture and Business. For further details visit the conference website www.rural2008.co.uk.
Free E-Marketing Course, East of England
Several free e-marketing workshops are being held all over the East of England for rural businesses who wish to market outside their local area. The workshops run from January to March from 9.30am to midday. To book please visit www.bookevents.org or call the Events Booking Team on 0845 601 1000.
Annual Conference & Trade Exhibition, Staffordshire
The National Farm Attractions Network (NFAN) are holding their annual conference and trade exhibition on Wednesday 6th February 2008 at Drayton Manor Park, Tamworth, Staffordshire. Speakers will include Tony Sefton Vision XS, Health and Safety Executive, Catering Consultants and Winner of the Farm Attraction of the Year Award. Delegates will choose from a variety of workshops in the afternoon including Visitor Experience, Catering, Educational Visits, Establishing an Attraction, Business Rates and Planning Legislation and Secondary Spend. For more information or to book a stand please contact Sarah Althorpe at the NFAN office on 01536 513397 or at info@farmattractions.net.
Be Aware
This scam has been made aware to us by Lynnette Hart of Heartlands. Please be aware of a publishing company stating you have been nominated and accepted to appear in a book called Presidential Who's Who? Please contact Lynette if you would like more information, info@heartlands.uk.com
Farming for Wellbeing Event, Yorkshire
Farming for Wellbeing is an event to introduce the concept and practice of care farming. It is being held on Wednesday 16th January at Bishop Burton College, Yorkshire from 9am until 2pm. Lunch is provided and there are 5 key speakers. "Growing Social Enterprise in the Humber" and "COMBINE" have sponsored the event therefore it is free to all delegates. For more information or to book please ring Peter Reid on 01482 887670.
Lantra Business Improvement Day, Somerset
Lantra are holding a Business Improvement Day in Somerset on 15th February 2008. The free event is at Dillington House, Ilminster and runs from 9.30am to 2.30pm. Places are on a first come first served basis. For more details ring 08456 047047 or email traintogain@blpeninsula.co.uk
Prowess 5th Annual Conference, Peterborough
The Prowess 5th Annual International Conference is taking place on 20-21 February 2008 at the Holiday Inn, Peterborough West. This is an opportunity to join leading players in business support, policy and practice to celebrate the success of women's enterprise development and debate all the current issues. The full programme is available by visiting www.prowess.org.uk/conference/Fitforthefuture.htm, and a booking form is available as an attachment. Call Ann Nicholls on 01603 762355 for details of exhibition and other promotional opportunities at the Conference.
Business Opportunities for London 2012 Games Advantage West Midlands is organising a conference on 23rd January about business opportunities arising from the London 2012 Games. To attend please contact Louisa Henry on 0121 380 3549


One Man's Rubbish
Brinton's Carpets based in Kidderminster in the West Midlands are looking to put waste carpet to industrial use rather than landfill. Wool Dust can be put onto land and is high in nitrogen and free to collectors. Waste Carpet could be used in menages as part of the 'mix' and could also be used for insulation. If you are interested in accessing the above products please contact Dave Clissold on 01562 635405 or email DClissold@brintons.co.uk.

Leadership Grants Available in Yorkshire
WiRE members can apply for the opportunity of accessing £500 worth of training or coaching with no financial commitment from you. The criteria is for businesses and partnerships based in Yorkshire and Humberside who employ between 2 and 4999 people. For more details contact Rita Neligan Medcalf on 07946 443930 or visit the website www.firstposition.web.com
Roadford Woodfair, Devon 2008
WiRE members are invited to exhibit at the annual Roadford Wood Fair near Okehampton, Devon on Saturday 12 and Sunday 13 July 2008. Previous Woodfairs have proved a valuable marketing exercise for exhibitors as well as offering excellent networking opportunities and providing an entertaining day out for those with an interest in woodland and related issues. Space allocation, as in previous years, will be on a first come, first served basis. If you would like to participate in the 2008 Roadford Woodfair, please contact Julie Bayliss at Julie.Bayliss@devon.gov.uk.
Associated Country Women of the World
The Associated Country Women of the World (ACWW) is an International NGO that might be of interest to the members of WiRE. It began in 1929 when it was established to represent the interests of women from rural backgrounds but now helps them to improve their standard of living, through education, community development programmes and pressure through the United Nations. It operates through 400 societies in over 70 countries which range from Brazil in the West: Finland in the North: Botswana in the South: and Fiji in the East. Further information can be found from our website which is www.acww.org.uk
Free business start up support for women in Cumbria
This is a new programme of support through Voluntary Action Cumbria for women thinking about starting a business and for those who have started in the last 3 months. They offer a six part evening course around the county covering all aspects of business start up, such as market research, marketing,
finance, legal issues. Women can also access up to 7 hours of individual advice through our one to one sessions with a qualified business advisor. For further information contact Kate Brundrett on 01768 869518
Big Bargain Bazaar Event – Malvern Showground
The Big Bargain Bazaar Event will be opened at 10.30am by internationally acclaimed trapeze artist (and practising medic at Bristol Children's Hospital) The Flying Doctor of Circomedia circus school. It promises to be a treasure trove of bargains: a great selection of high quality independent designer clothes, shoes and accessories, as well as toys, games and gifts for upstairs, downstairs, inside and out – both current stock and clearance bargains, all at up to 50% off normal prices. Entrance is via the Main Gate, with free parking next to Severn Hall, and costs just £3 (50p for 5-15's). Shop and drop at the Parcel Crèche, while you enjoy delicious refreshments by Relish. For more details contact Charlotte Carver on 01684 592179 or email charlotte@bidderscroft.com


Exclusive Offer at The Introduction Company
Lesley Brewer who runs one of the North's most exclusive introduction services, is offering members a one-off discount when they join The Introduction Company. Lesley celebrates her second, and most successful, year in business in January and to mark this she is offering WiRE members a £50 saving on the joining fee in January. The Introduction Company operates nationwide and is based in the village of Brawby, near Malton, in North Yorkshire and currently has over three hundred and fifty people on her books and several couples planning to marry in 2008. If you're looking for love give Lesley a call to find out the secret to her success. Call 01653 669430 or visit www.theintroductioncompany.co.uk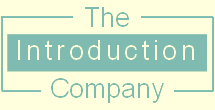 20% off Jewellery Making Workshops
Joelle, Original Handcrafted Jewellery, is offering WiRE members a 20% discount on her Jewellery Making Workshops. Enjoy the hands on experience of learning jewellery making techniques and design and make your own set of gorgeous jewellery to take home. Workshops run on Thursday evenings 7pm-9pm at Rosliston Forestry Centre, Staffordshire. The cost is £20 (including refreshments and materials) for evening workshops, £16 for WiRE members paying in advance. Places are limited to allow plenty of individual attention. For further information, and details of future workshops please contact Joelle on 07913 995564 or email: joelleharris@tiscali.co.uk.
What's caught our eye on the WiRE Rural Marketplace this month …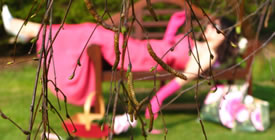 Emma's Choice:
Garden Divas – Gardening Gifts and Goodies - www.gardendivas.co.uk -

Gilly Brown – Found on the Rural Marketplace - http://www.wireuk.org/directory.aspx?member=2609
I love the Home Page, Its SO bright and feminine it just pulls you in straight away and the picture of the lounging women dressed in pink with her Trug next to her is truly brilliant! The overall colour and lay out of the site is cheery and very eye catching, I can image what a shop would look like if owned by this company, it would draw you in and entice you to buy something!! I like the ease with which you can navigate the site, simply clicking on the item that interests you and then very quickly being able to see a visual of the item with the price, which is what you want from a website, nice and simple. The items that are being sold are priced at a reasonable level, I would easily choose 3 or 4 items for my shopping basket and feel I was getting value for money. The overall feel of the site is of Girl Power and Happy Shopping!!!!
Emma Blantern
ESF Administrator, Opening Doors