'What's Stopping You?'- Events for Women- South East England
Business Link are running a series of free one day events called What's Stopping You? The events are designed for women in South East England interested in working for themselves or who have started a business within the last 12 months.
The aim is to help women successfully start up, sustain and survive in the current economic climate. The events are being funded by SEEDA (South East England Development Agency). Each one day event will include seminars, talks from successful business women, networking, an exhibition area, business advisors and short films on a host of useful topics. The events will be in various locations throughout the South East starting on 5th November in Brighton and finishing on the 256h February 2009 in Surrey. To find out more about the events, there location details and to book visit the website www.whatsstoppingyouevents.co.uk .

Vision Women in Business Event – Derbyshire
The Women in Business Event is being held on Friday 7th November 9.30am-3.00pm. The day is designed to bring women together in a relaxed and friendly environment, to raise awareness of a local community of women in business; inspirational speakers will address a number of topics that can affect women in business; and practical workshops will provide the knowledge and skills to be ale to put every good idea into practice. The day will be of great benefit to women considering starting a business or looking for a new challenge. The event is being held at the Agricultural Business Centre, Agricultural Way in Derbyshire. If you would like to attend the event please contact the Vision development consultants on 0115 9418242.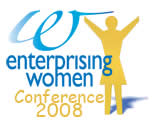 National Everywoman Conference – November 19th 2008- London
Are you looking for new ideas to replenish and grow your business? Would you like to know how from the UK's most inspiring role models? If so, the National Everywoman conference being held at Central Hall, Storey Gate, Westminster is a must attend for you. At the National everywoman Conference this year, there will be workshops, discussions and must see speakers to help you plan and build your business. There are also fantastic opportunities to network with successful entrepreneurs from many different business areas. Ruby Wax will even be there to give a empowering and energising talk to get you prepared to take on the world! WiRE members are being offered a discounted rate for this event of £95+vat instead of £120+vat when they quote discount code 'EW9' when making their booking. Book your conference place today at http://www.everywoman.com/Conferences/ Conferencecalendar/?id=1620
Dension Till Legal Seminar – Wednesday 19th November 2008 – York
Dension Till are holding a legal seminar on 'Surviving in an economic downturn-Protecting your business from bad debt'. The leading York commercial law firm has prepared a half day seminar aimed at helping you ensure that your business can make it through to the 'other side', particularly where cash flow is concerned. This practical seminar will help you identify how you can improve your working practices to minimise risk and talk through the options available in the event that working relationships with your clients begin to strain. The event will be held at The National Railway Museum, York on Wednesday 19th November 9.00am- 12.30pm. To book your place or to find out more about this key legal seminar please register online at ww.denisontill.com or telephone 01904 561446.

Enterprising Women Conference- Friday 21st November – Cambridge
Enterprising Women are proud to announce their second conference and first ever regional awards to be held on 21 November 2008 at Abington Hall, Cambridge. The high quality, not for profit, conference is open to business women across the country, offering up to date, practical advice, along with a good dose of inspiration for you and your business. The awards will be presented to winners at the end of the day to celebrate the achievements of the East of England's top enterprising women, as voted for by you! The conference will help you learn, share, build relationships and have fun. The conference will run from 9.30am-6.00pm and the early bird price is £85 plus VAT. For more information or book please visit the website now at http://www.enterprising- women.org/static/conference-2008/index.html


Opening Doors Business Skills workshops – West Midlands
Business Link West Midlands are funding the Opening Doors Business Skills workshops which are now available for women who live in the region.

If you have been trading for less than 12 months these workshops are FREE however they are available to more established business owners, and those living outside the region at a cost of £45 per workshop.
Bookings are now being taken for November and places are limited on a first come first served basis.
Workshops coming up include:
TAX MATTERS: Wednesday 5th Nov: Evans Easy Space, Rotherwas Industrial Estate, Hereford. 10am-2.30pm
UNDERSTANDING WEB-SITES: Thursday 6th Nov: Harper Adams University, Newport, Shropshire, 10am-2.30pm
LOG'S & MARKETING: Thursday 13th Nov: Evans easy Space, Rotherwas Industrial Estate, Hereford, 10am-2.30pm
I CAN DO THAT: Tuesday 25th Nov: Evans Easy Space, Rotherwas Industrial Estate, Hereford. 10am-2.30pm
OPENING DOORS 3 DAY BUSINESS START UP TRAINING COURSE: Tuesday 11th, 18th, 25th Nov: Evans Easy Space, Battlefield, Shrewsbury, Shropshire: 9.30am-2.30pm
OPENING DOORS 3 DAY BUSINESS START UP TRAINING COURSE: Wednesday 19th & 26th Nov and 3rd Dec: Admaston Village Hall, School Lane, Rugeley, Staffordshire: 9.30am-2.30pm
KEEPING CUSTOMERS IN CHALLENGING TIMES: Wednesday 10th Dec: YFC Centre, Stafford County Show Ground, Staffordshire: 10am-2.30pm
Please call Emma on 01952 815451 for further information or to book onto a workshop
| | | |
| --- | --- | --- |
| | | |
Free - Women in Business Event – Birmingham and Wolverhampton
Business Link are running two empowering Network events in November. The two events will feature public speaker and development guru Kate Rigby, who is renowned for specialising in change management and the 'people' side of business. Business Link in the West Midlands has teamed up with Natwest and RBS to offer you and your business the opportunity to benefit from Kate's expertise. The events are open only to female business owners who want to change their business practises in order to be more successful. The event will help you find out how to build your confidence, feel empowered, develop your communication skills and increase positive thinking. Places are strictly limited to one per business and offered on a first-come first-served basis. They will be held on the 5th November at The Botanical Gardens, Birmingham and 26th November at The Mount Hotel, Wolverhampton between 11.30am-2.00pm. To book your free place now call 0845 609 9890 or by email events@businesslinkwm.co.uk
Google Ad-words conference- E-Innovation Centre, Telford
Ascendancy Internet marketing is running a one day hands on course designed for both first time users of Google ad-words who want to get up and running in one day and also existing users. Google ad-words are the sponsored advertisements that run down the right hand side in Google - this course will teach you how to use and make the most of this marketing tool. The course will take place on the 11th November and the day will include: Introduction to Google AdWords, keyword research tools and their uses, planning adverts structure, writing adverts, setting up adverts and most importantly maximising return on investment. The course fees will be £175 + VAT. This includes a £50 credit to a Google AdWords account for new AdWords accounts (terms & conditions apply, details available). To book your place visit the website now at or call 01952 288314 for more information http://www.ascendancyinternetmarketing.com/ adwordscourse.asp
Free - Olympic seminars – West Midlands
Five free seminars are being organised to help provide the tools needed to bid for an Olympics 2012 contract. There is a maximum capacity of 25 on each workshop and places are filling up fast, so book now to avoid disappointment. The dates of the seminars are as follows; Worcester 11th November at The Pear Tree Inn - 16.30 -18.30, 2nd December 2008 - 16.30 - 18.30 - The Bromsgrove Hotel, Bromsgrove;13th January 2009 - 16.30 - 18.30 -The Westmead Hotel, Redditch, 10th February 2009 - 16.30 - 18.30 - The Northwick Hotel, Evesham and 10th March 2009 - 16.30 - 18.30 - The Severn Valley Railway, Kidderminster.
To book your place please email alistaird@hwchamber.co.uk, including your name, number and company name.
Celebration of Women's Enterprise evening- Monday 17th November 2008
Come along to this wonderful evening to celebrate women's enterprise to be held at Oak Barn, Packington, Near Lichfield on Monday 17th November from 7.30pm. Bring along your daughters, nieces, friends, neighbours or anyone who could be inspired or encouraged to be a female entrepreneur of the future! The event will begin at 7.30pm with fizz and include the inspirational speaker and life coach Liz Wilson from the Wellness Partnership. The evening will cost £5 per person included a champagne cocktail and locally sourced celebration buffet. Booking is essential, so please contact Joyce Bullock on 07976 721537 or email info@insightdesignconsultancy.co.uk.

Free - 'Wake Up Your Website' Event, Shropshire
Is your business's website failing to get the traffic you need? Does it struggle to turn potential customers into real clients? You could be missing out on the huge business opportunity that the Internet presents. Why not take the first step towards turning your website around by attending this free three hour 'Wake up your Website' event on Tuesday 18 November and Tuesday 9 December 2008. Everyone attending the event will go away with their own personalised website action plan. Register now through our website at www.wakeupyourwebsite.co.uk. or by giving us a call on 01584 876222 or 01952 288314
Womens Enterprise Day- Wednesday 19th November - Worcester
Women's Enterprise day being held at Worcester Racecourse on Wednesday 19th November promises to be a fantastic event for WiRE members. Come along for a full day of inspiration, workshops, shopping and networking. The day will run from 9.30am- 3.00pm and tickets cost £10. Contact Rosemary Willmore on 01905 766723 to book and confirm your choice of workshops. Choose from 'marketing', 'business relationships' or 'intellectual property rights'.
Home Business Network training sessions- Herefordshire
Herefordshire council is starting a new service of training events to help emerging home businesses. There will be 3 Thursday twilight training sessions at Evans Easy Space, Hereford this autumn. The first 'Keeping the Books and doing the tax' will be held on November 20th. At this session chartered certified accountant Sharon Pocock will look at how to start keeping track of your business and fill out your tax return – for absolute beginners. The second ' Have a life' will be held on December 4th and business advisor Sharon Kidson will help you manage your time, prioritise what's important and fit the business into your life. It is suitable for home businesses just starting up. The final training event will be 'Pitch for Business' on December 11th. Steve Ashdown of Photo Creative on how to respond to briefs, make presentations and manage clients. Each session will run from 4-6pm with tea and coffee and parking available For an informal chat about any of these sessions or to book a place, call 01432 383064. Introductory discount price of £7.50 for each session if booked by November 13th 2008, price will normally be £15.
West Midlands Lifestyle Expo – 25th November - Birmingham
Go-Woman of Birmingham are organising a 'West Midlands Lifestyle Expo' and are looking to work with a select number of clients in the 'lifestyle' sector who want more business from local businesswomen for this exciting and unique networking event, with a pampering twist. The West Midlands Lifestyle Expo has been created to offer a networking event in a relaxed and friendly atmosphere, with free complimentary sessions and chance to be inspired. It allows business to be mixed with pleasure, providing a chance to raise your profile and get more business. Exhibitor packages are affordable at the price of £125, including access to 100 delegates (tickets pre-booked) and opportunities to host a workshop themed around image. The event will run from 10-4pm at The Pavilion, Perry Bar, Birmingham. For more information visit the website at www.lifestyleexpo.co.uk.